North Sikkim
Initially, Shekhar and I had planned a 4-day North Sikkim trip on a motorbike. We had even paid a deposit and reserved a bike. But a few people from our hostel were planning to go on a 3D/2N North Sikkim tour the same weekend, so we decided to join them and do East Sikkim on motorbikes next weekend. In hindsight, that was one of the best decision we took on this trip. Since we both aren't hardcore bikers, the trip would have been ardous and boring. And we would have missed all the fun we had as a group.
On Saturday morning, six of us from the hostel reached Vajra stand and met four of our co-passengers for the trip - an elderly couple and a father-son duo. The first day's itinerary was relatively easy - reach Lachen. We stopped at a couple of waterfalls for sightseeing. The first one was rather unremarkable. At the second one, Naga falls, we took our own sweet time. We clicked loads of pictures and even got down into the water. If this was not enough, Shekhar and Sourabh decided to go further up the waterfall and click pictures there. Our driver was angry, and the other passengers were annoyed. We had taken a lot more time than he had expected and were behind time. This was a preview of what was to come the next two days. Everywhere we went, someone or the other from our group always took more time than what was allotted. It wasn't entirely our fault either. The packaged tour was designed such that there was little room for exploring the places we visited. It wasn't gonna work with a bunch of youngsters not accustomed to packaged tours.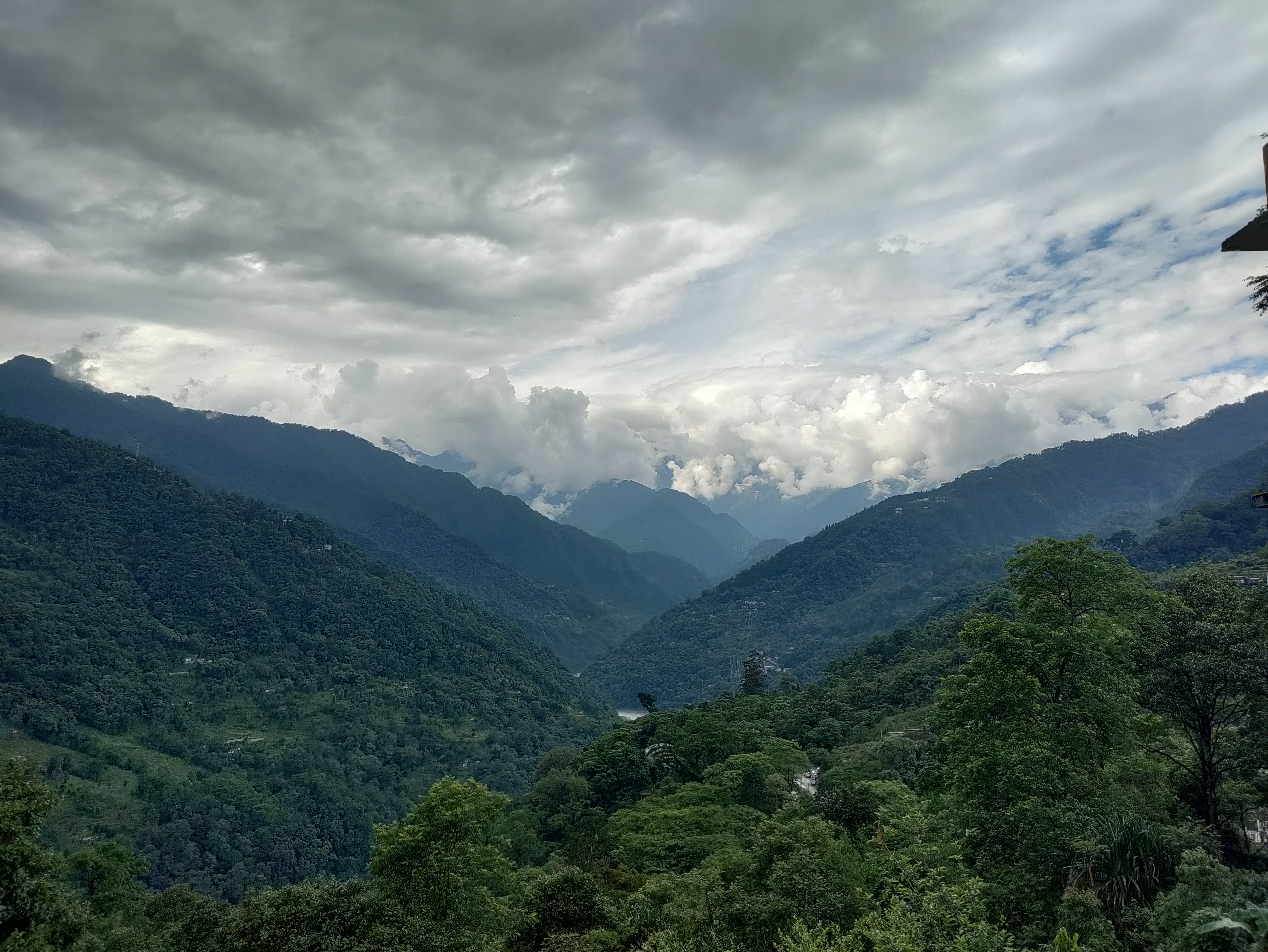 By the time we reached Lachen, it was dark. The six of us went out in the dark and walked kind of nowhere till the dinner was ready. The dinner was simple but delicious. The chicken was too soft and tasty. We were expecting basic food, but this exceeded our expectations. After dinner, we went for a walk again, this time in search of momos and alcohol. We settled into a small eatery. Only that one had a single plate of momos left.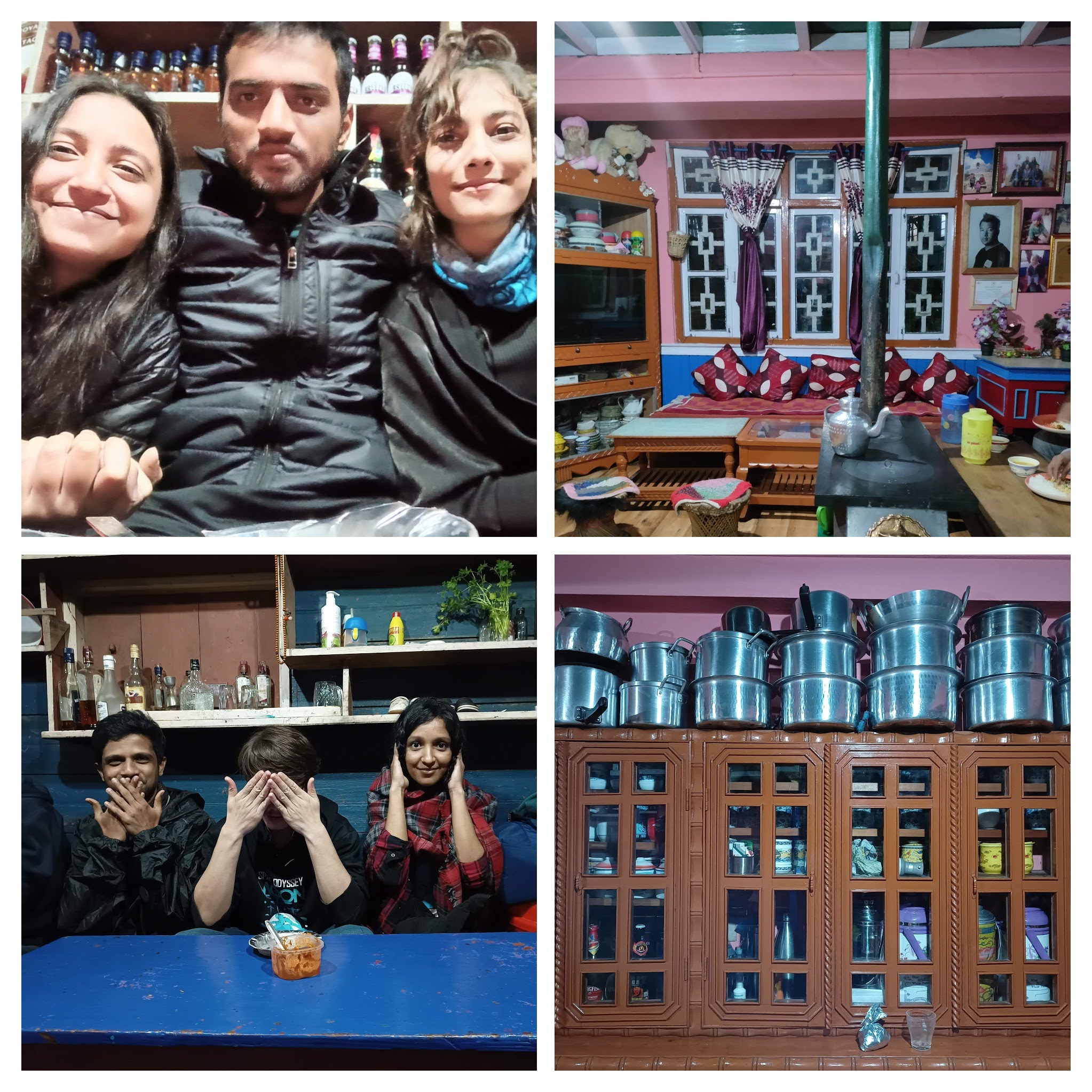 The fun began when two taxi drivers from Lachung came to the place and started interacting with us. Sourabh pretended to be Mark, an Australian whose parents had settled in Madhya Pradesh because they loved nature. He had fully entered the character and we were trying hard to suppress our laughter and enjoy the show. Anshika also joined and pretended to be his half-Indian cousin. She would go on complimenting one of the drivers' eyes which would earn her a flower and a love letter the next day. This went on for a while. Meanwhile, Maya was on her own quest to get a single bidi which she eventually got, thanks to the local drivers. Finally, we returned to our homestay, but no one was in the mood to sleep. The topic of ghosts and paranormal experiences came up. Tulip narrated her experiences from her hostel days. Anshika tried, but her fixation with a guy and a girl and something they did made it funny. We went to bed very late even though we had to get up very early the next day.
We barely got 2-3 hours of sleep that night. The next morning we discovered that we were surrounded by tall beautiful mountains. There was a small debate among us on whether we were seeing snow-capped mountains or clouds in the distance. We got freshened up and left for Kala Patthar and Gurudongmar lake. Once we were past Lachen town, amazing views greeted us. Little did we know that we were about to witness breathtaking views after views for two days. We stopped for breakfast at a little hut. The breakfast included in the package was simple bread and jam, so we ended up ordering tea and Maggi along with it. It was cold and drizzling outside. At the same hut, we rented gum boots and jackets. Gum boots were an upgrade for me who was foolhardy enough to wear sandals.
We went to Kala Patthar first. As we were climbing Chopta valley, we witnessed magnificent views of the valley. Tall mountains on both sides, a stream flowing in the middle, everything under sparse cover of clouds. After a point, we started noticing snowfall. As we got closer to Kala Patthar, it started increasing. We were super excited when we reached Kala Patthar amidst snowfall. Some of us were experiencing snowfall for the first time and went crazy.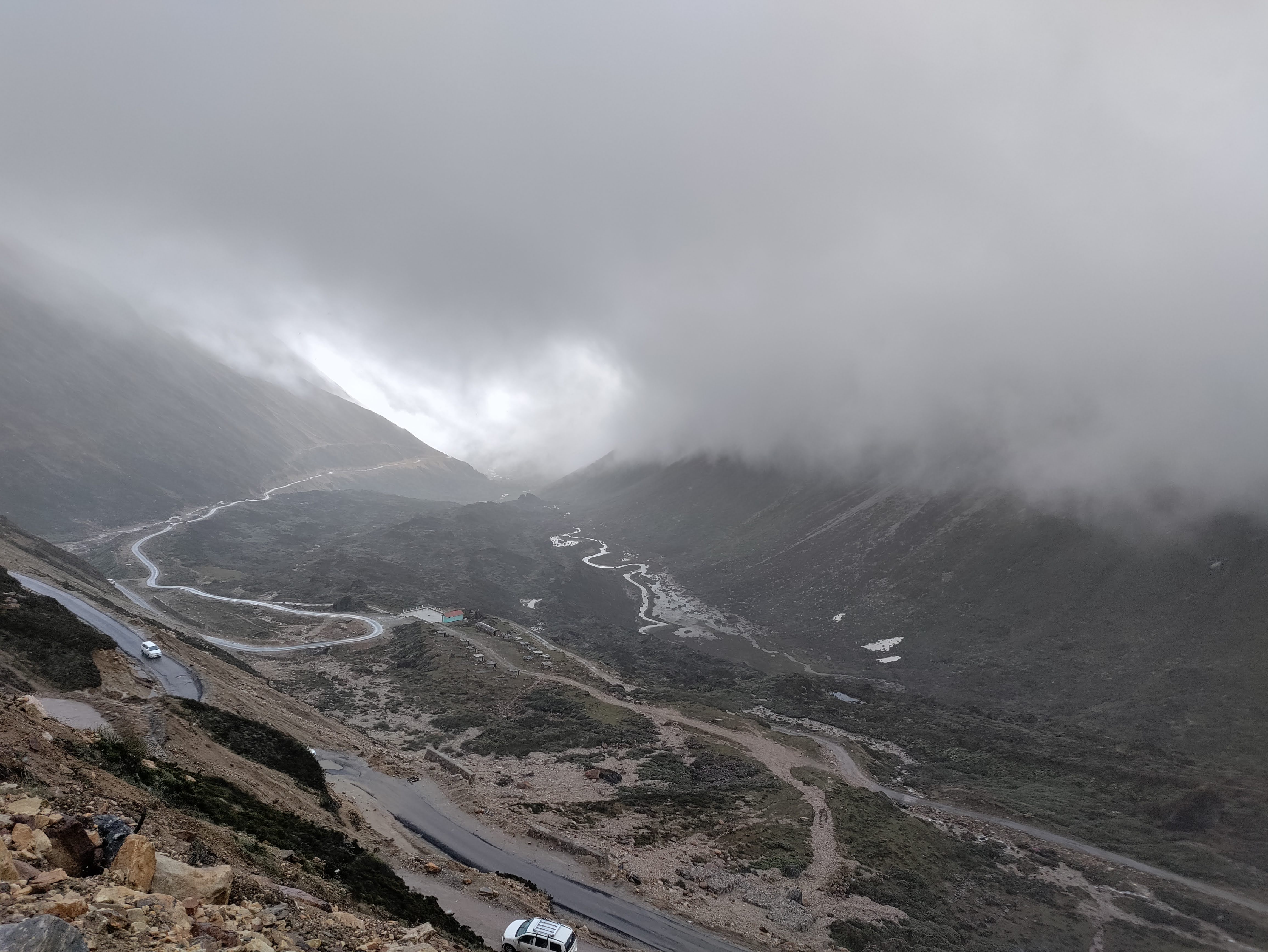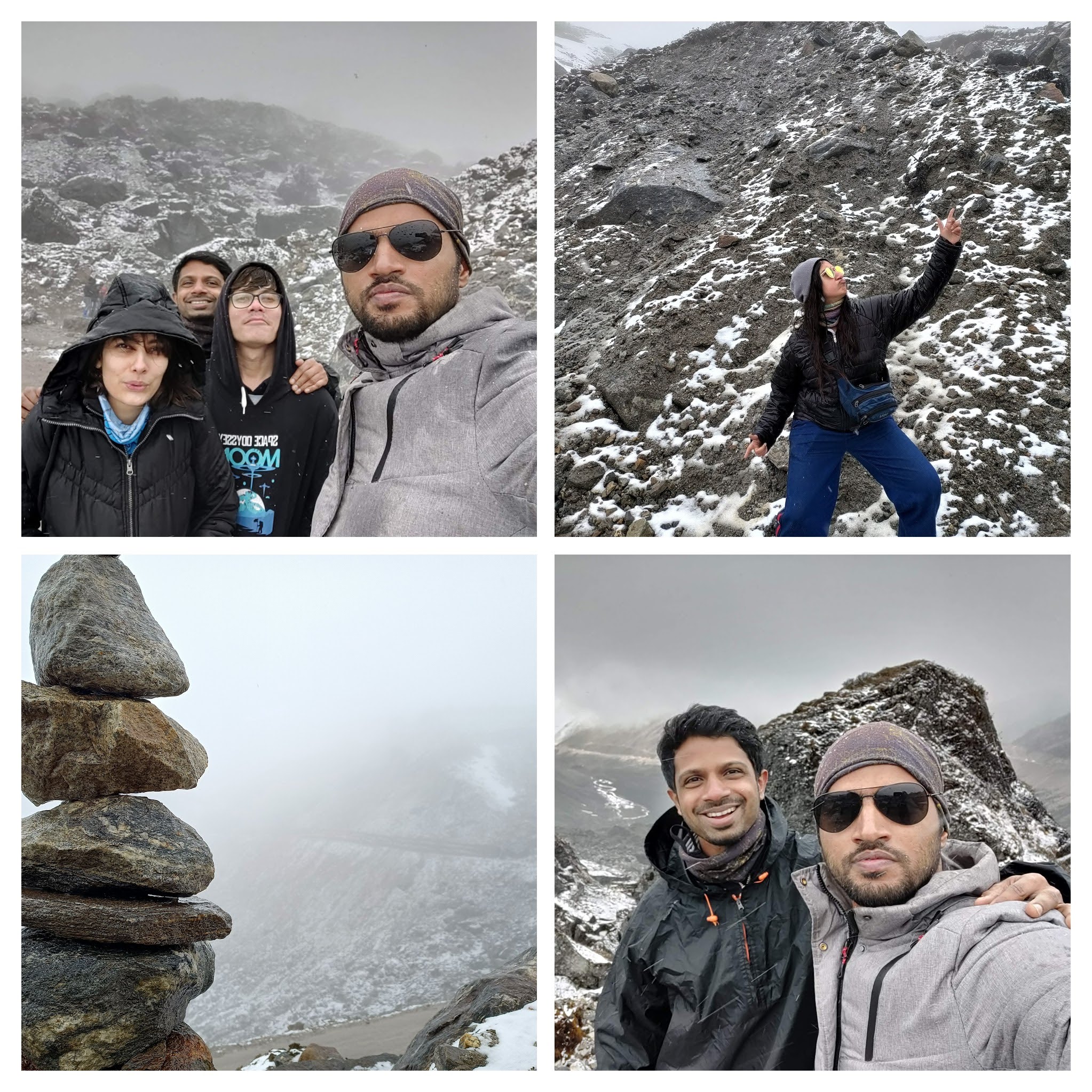 After spending a good amount of time at Kala Patthar, we returned to the cab and started towards Gurudongmar lake. The landscape started appearing more like a cold, high altitude desert of Ladakh/Spiti with typical Himalayan snow-capped mountains on the sides as we moved closer to the lake. For the last few kilometers, we kept seeing a big, snow-capped mountain peak. I suppose it was Khangchengyao. You could sense that it was just the tip of the mountain and the actual mountain was huge. After all, we were already 17000ft high. It was a surreal view. We had to get down a few meters before the lake since our car couldn't climb the off-road slopes with all the weight. Even though for a few meters, it was a difficult walk at that altitude. When we reached the cliff at the edge of the lake, we were greeted by strong wind and light snowfall. The wind was so strong that we couldn't even breathe properly if we faced its direction. Even in such conditions it felt amazing to be there. Unfortunately, we had reached the lake late and couldn't spend much time there. We would have loved to go down to explore the lake and its surroundings, and maybe sit there for a few minutes.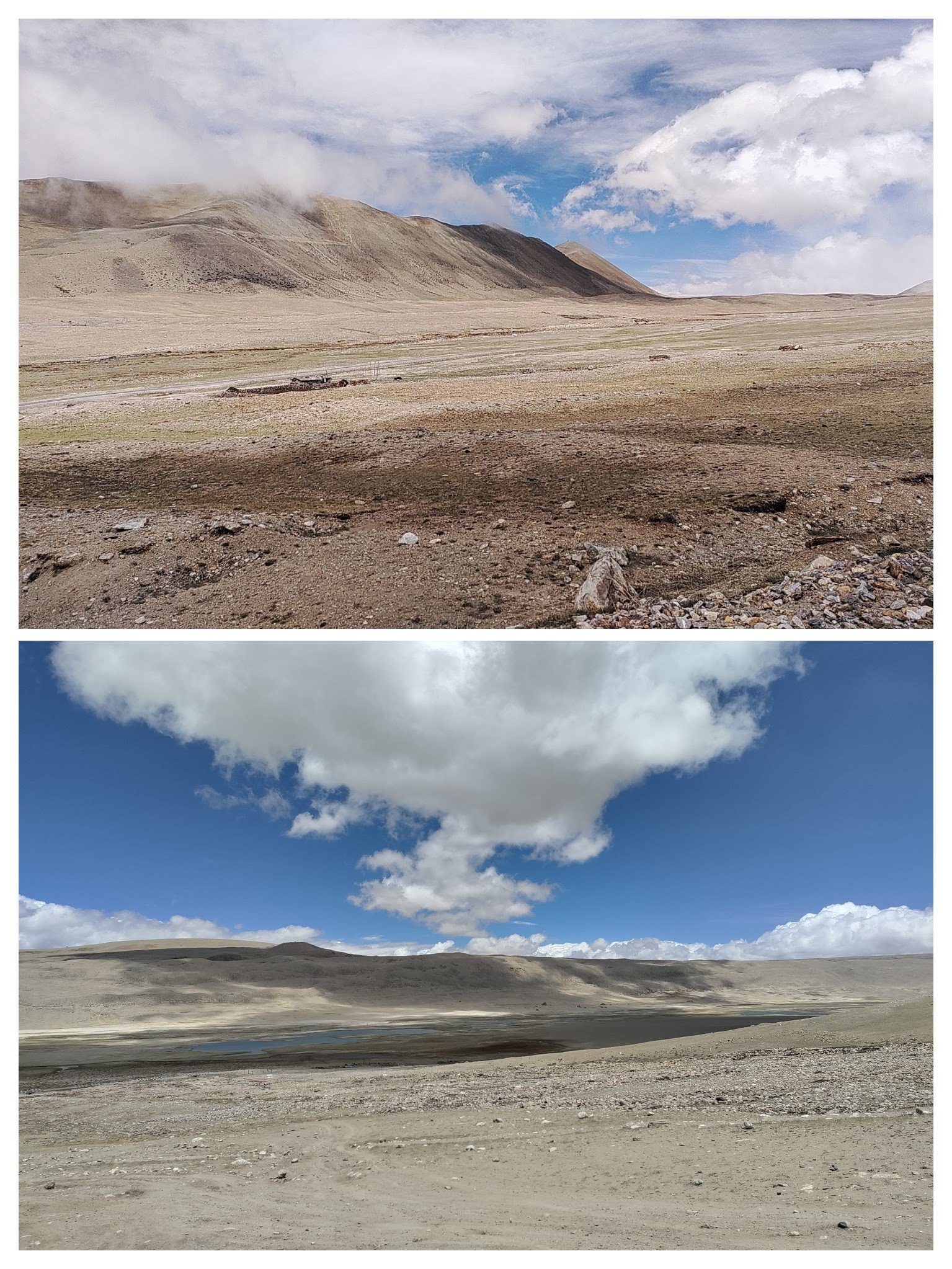 On the way back, we admired the arid snowy landscapes one more time. Once we had passed those, the ride back to Lachen was pretty uneventful. It had started drizzling outside, and fatigue was setting in. Most of us caught up on sleep on the ride way back. We freshened up, had late lunch in Lachen, and moved to Lachung. We reached Lachung when the daylight was fading out. Lachung was much bigger than Lachen. The guest house we checked into was not as good as the Lachen one, and the food wasn't good either. (Almost) all of us took showers. Anshika had to take a cold one as the hot water stopped in the middle. Sourabh had a temporary fever. We had dinner there and got jackets and boots for the next day.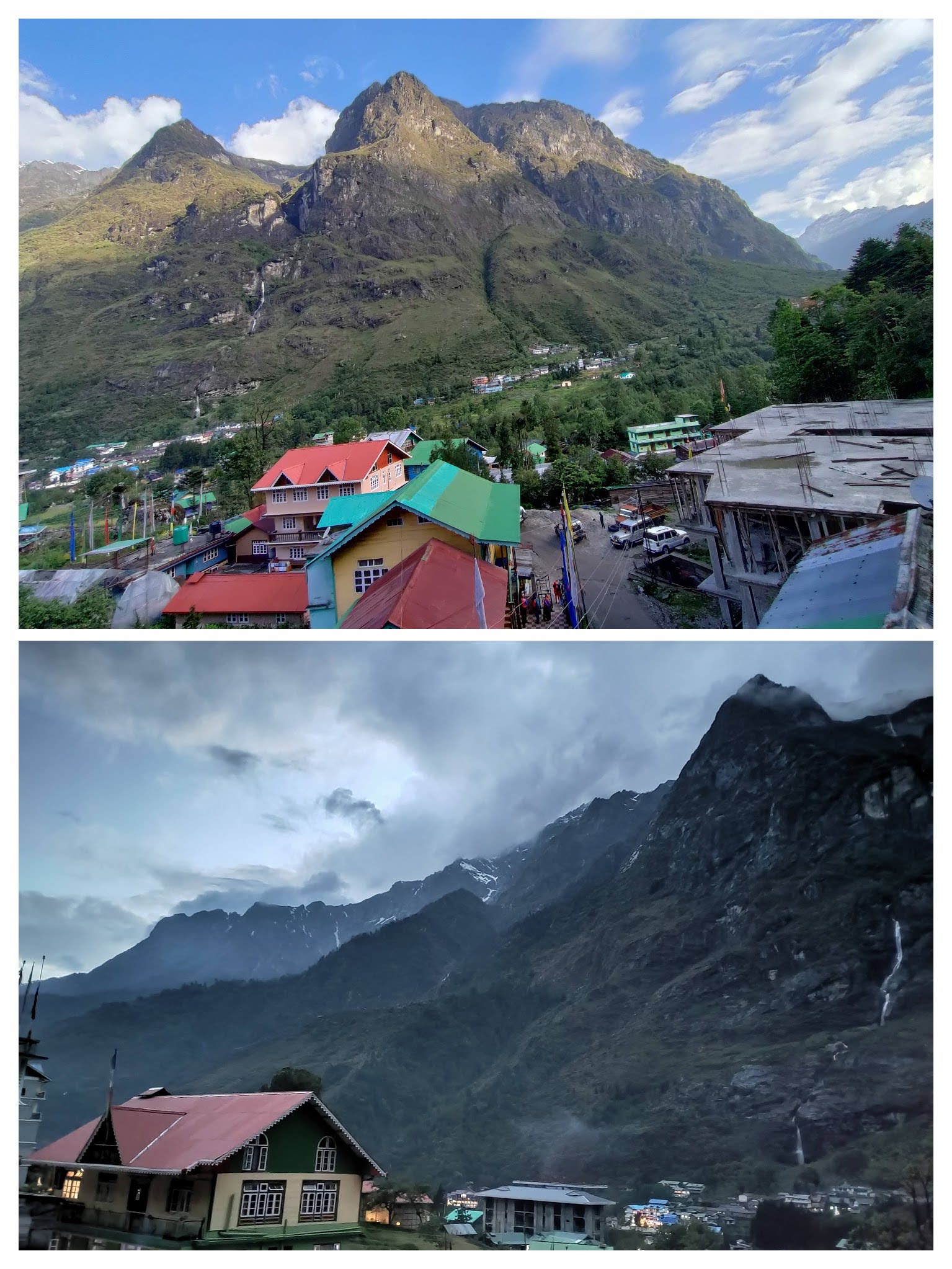 We were planning to go out for a walk after dinner when the lady in charge of the guest house tried to browbeat us against it. It was late according to her(at around 9 PM). She eventually gave up realizing we were not going to listen. Maya had a few things to say about it - something about curtailing the fundamental right of freedom of movement. After eevryone went to their rooms, we snuck out. There was no way to lock the guest house anyway. We walked a few meters and tried to observe the stars from a dark place. When clouds ruined our plan, Sourabh, who had recovered from his fever, lead us onto an empty road. We walked on that road till we reached the Lachung Monastery gate. It was deserted. There were no houses or streetlights, only a thick cover of trees on one side. Most of us were unwilling to go further, but no one wanted to admit they were scared. So after much deliberation, we turned around. On our way back, we got a few drinks and snacks for the night.
By the time we returned everybody in the guest house was asleep. After discussing which room was safe to create a ruckus in, everybody assembled in mine and Shekhar's room. As with the previous night, we stayed up late. We drank, played very competitive dumb charades, heard Anshika attempt to narrate her 'There was this guy, and his girfriennnnd' story, and laughed a lot. Dumb charades saw Poseidon getting recognized in record time and Bun Maska testing Maya's ability to control curses. Finally, we went to sleep knowing that for the second day in a row were not gonna get enough sleep. The sleep sacrifices were totally worth it though.